Fibaro Single Switch Homekit
Fibaro Single Switch HomeKit
Fibaro Single Switch is designed to be installed in standard wall switch boxes
Control connected devices either via HomeKit technology (using Bluetooth low energy) or via a switch connected directly to it
Active power and energy consumption metering functionality
Required Neutral Wire (3-wire system)
Single Switch is not a Z-Wave device
Warning 1: This device is Apple HomeKit-enabled!
Warning 2: This device is not Z-Wave and therefore will not work under any Z-Wave controller!
Warning 3: It is necessary to connect a neutral wire to the correct operation of the device! Three-Wire electrical system is required.
SINGLE SWITCH - FLUSH-MOUNTED MODULE WITH POWER METERING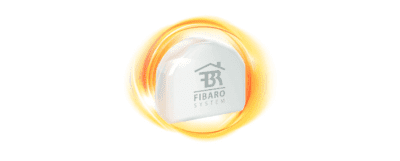 One Device, Many Uses
The FIBARO Single Switch module is an essential component of your smart home system. It will be practical in various settings and fulfill a number of purposes. You can use it to switch on/off the lights, and electrical devices, or disconnect the electricity from the outlets. It will also give you accurate information on how much electric energy you are using .... Thanks to the power metering capabilities.
IT FITS ANYWHERE YOU WANT IT TO
The FIBARO modules are really tiny. Thanks to their miniature sizes they fit most of the flush-mounted junction boxes and light switch sockets. Wireless Bluetooth® low energy communication and the solutions provided by our engineers ensure an average range of 14,5m.
Technical details
Power supply: 100-240V AC, 50/60 Hz
Supported load types: Resistive and incandescent
Rated load current: 8A - continuous load
Operating temperature: 0-35°C (32-95°F)
For installation in boxes: Ø ≥ 50mm, depth ≥ 60mm
Overcurrent protection: required external 10A circuit breaker
Radio protocol: Bluetooth® low energy
Radio signal power: EIRP up to 10dBm
Radiofrequency: 2.4 GHz
EU directives compliance: RED 2014/53/EU, RoHS 2011/65/EU
Dimensions (L x W x H): 42.5 x 38 x 20.4 mm