FIBARO Motion Sensor Homekit
FIBARO Motion Sensor Homekit
Features
Compatible with the Apple HomeKit protocol
Bluetooth Low Energy technology for wireless communication
Movement detected using a passive infra-red sensor
Measures ambient temperature
Measures light intensity
Built-in accelerometer to detect any attempt to tamper with the product
Integrated battery
LED alarm warning in the event of any alteration or motion is detected
MOTION SENSOR - MOTION, LIGHT & TEMPERATURE SENSOR
Multisensor
This tiny device, apart from detecting movement, measures current ambient temperature, and intensity of light and has tamper protection thanks to its built-in accelerometer.
Mobility is a great feature
The FIBARO Motion Sensor is wireless and battery-operated. Its clever holder allows you to place the sensor anywhere, even affixing it to a wall, its ceiling, or other surfaces. The sensor's location can be changed whenever needed.
Small is beautiful!
The world's most advanced technology has been enclosed in a flawless white casing. With a diameter of fewer than 44 millimeters (1.732 inches), you'll fall in love at first sight!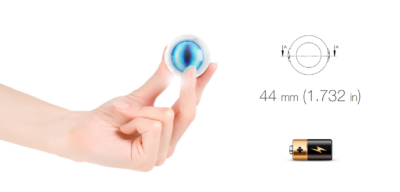 FIBARO supports Apple
The FIBARO System devices are based on Z-Wave technology, thanks to which they can work individually or in groups, communicating with one another, and providing you with indefinite home automation management possibilities. According to our mission, to automate every single household and take advantage of Apple's technology, FIBARO devices are now compatible with HomeKit.
Movement detection
Given that all rooms are different, you can also adjust the FIBARO Motion Sensor's sensitivity to suit its location in the house. Adjust it to your individual needs or a particular situation.
Announces temperature
The multicolor LED iris of the FIBARO Motion Sensor, after detecting motion, informs the color about the current temperature in the room.
Tamper protection
To keep you and your family safe, the FIBARO Motion Sensor has built-in tamper protection. Any attempt to relocate or change the sensor's view angle will trigger the alarm.
Detects people in restricted areas
Find yourself wondering what's going on at home when you're away. While you are at the office, or on a business trip, the FIBARO Motion Sensor will keep an eye on your home.
Turns lights at dusk
The FIBARO Motion Sensor works perfectly in any situation, providing you with endless possibilities when integrated with other devices. The sensor can turn on lights at dusk to make sure your path home is always bright.
Lights up your day
The FIBARO Motion Sensor expands the comfort of your reality. It measures light intensity to switch lights on and off at the right moment.
Turns on nightlamp
The FIBARO Motion Sensor will wait and turn off the bedside lamp after your child falls asleep. Your little one will fall asleep peacefully and you won't have to worry about unnecessary energy consumption.
Protects your home
I'm your home guardian...The FIBARO Motion Sensor guards your home and your family 24/7.
Is not triggered by pets
Thanks to the adjustable sensitivity feature, devices can be set so that the FIBARO Motion Sensor is not triggered by your pets.
Wireless Update
The FIBARO Motion Sensor has been designed to get firmware updates automatically with just one click in the mobile app.