FIBARO Flood Sensor Homekit
FIBARO Flood Sensor Homekit
Features
Compatible with Apple HomeKit technology
Bluetooth® Low Energy technology for wireless communication
Flood detection
Alteration detection thanks to a built-in motion sensor or when the Flood Sensor is opened
Very easy installation – simply place it on a surface prone to flooding
Battery operated
Warning was given in the event of any alteration or flooding: LED indicator and alarm siren
FLOOD SENSOR - WATER LEAK & TEMPERATURE SENSOR
Water leak & temperature sensor
The FIBARO Flood Sensor is a water and temperature sensor that informs you about a leak and warns you about potential flooding. Place it in difficult-to-reach areas and use it as a scene trigger.
Sensor that matches everywhere
The FIBARO Flood Sensor is wireless and battery-powered. It works on uneven surfaces thanks to gold telescopic probes flexible enough to compensate for it.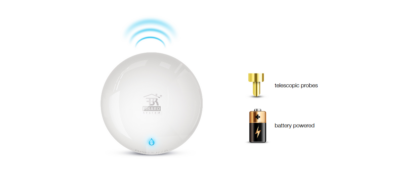 Designed to be perfect
The FIBARO Flood Sensor has a futuristic design, is compact in size, and features a wide variety of additional functions. It was designed to fit even the hardest-to-reach places.